Date Ideas in Singapore
Ditch your boring date ideas at the malls or cafes with our list of 17 fun date ideas in Singapore 2021!
For times when you're wondering how in the world you are going to impress your first date, you'll find one or two dating places in Singapore that your date probably hasn't been yet.
1. Hop On The Singapore River Cruise
Seriously, nothing can be more romantic than watching the sunset with your partner while on a boat. And by that, we mean none other than the Singapore River Cruise. With your arms latched around each other, watch the amazing scenic views of the river including iconic landmarks around Boat Quay, Clarke Quay and Marina Bay.
Sounds like one of the dating ideas in Singapore that you'll remember for a lifetime, eh?
Location: 30 Merchant Rd, Singapore 058282
Opening Hours: Daily: 9:00am to 11:00pm
2. Test Your Strength At Climb Central
For those of you who are one of those 'kiasu' couples – see who's better at this sport by using your body strength. Even if you think you both suck, there are plenty of beginner-friendly walls where you both could test on the same level.
From top rope to boulder, this might make or break your relationship since it brings out your inner competitiveness.
Location: 1 Stadium Place, Kallang Wave Mall, #B1-01, Singapore 397628
Opening Hours:
Monday to Friday: 11:00am – 11:00pm
Saturday, Sunday & Public Holidays: 9:00am – 9:00pm
3. Create Pottery Together
Want to spend a quiet, relaxing day together? Pottery is one of the best things to do in Singapore for couples that prefers a quiet activity together. Looking for fun date ideas in Singapore that doesn't require too much effort? Introducing the world of pottery!
You don't even need to talk (especially useful for couples that are beginning to get bored of each other), just let your hands do the talking.
Check out all of the Center Pottery available classes here.
Location: 97L Lorong Tawas, Singapore 639824
Opening Hours: Daily: 9:00am to 6:00pm
4. Race Against Each Other
Remember those times at the start of the relationship where your heart starts racing when you see your partner? At KF1 Karting, you'll race too, but with your go-karts.
Go-karts are one of fun date ideas in Singapore that definitely should be in your checklist because really, who doesn't love racing and the adrenaline that comes with it when winning 1st place?
Location: 1 Turf Club Ave, Singapore 738078
Opening Hours:
Tuesday to Sunday: 1:00pm – 10:00pm
Closed On: Monday
5. Play With Some Balls
At Cosmic Bowling, there's so many themes you could choose with glowing lights shining all throughout the entire game. It's so fun – bowling is always the top dating ideas in Singapore among couples!
Location: Various Orchid Bowl outlets. Check them out here.
6. Laugh Out Loud At Canvas Comedy Club
Going to a comedy club would be one of the fun date ideas for couples that need to spice things up in their relationship if it's getting dull and boring. If you can't make each other laugh, let other people make you both laugh instead (but if that's the case, then perhaps you need to re-evaluate your relationship).
Book your tickets here.
Location: 20 Upper Circular Road, The Riverwalk, #B1-01, Singapore 058416
Opening Hours: Tuesday: 8:30pm to 11:30pm
7. Bounce, Bounce Away
When it comes to dating ideas in Singapore, jumping on a trampoline could be really fun! Another great way to burn calories. In fact, you might even burn more calories.
Head to BOUNCE for a fun, bouncy experience! They also have several climbing walls, basketball nets and more. Take a look at more stuff they have here.
Location: 8 Grange Road, Cathay Cineleisure Orchard, #09-01, Singapore 239695
Opening Hours:
Monday to Thursday: 10:00am – 10:00pm
Friday: 10:00am – 11:00pm
Saturday: 9:00am – 11:00pm
Sunday: 9:00am – 10:00pm
8. Break things, and not each other's hearts
The last thing you would wanna do is break your lover's hearts. At The Fragment Room, you'll be breaking things from left to right – all at a confined room. With their double package, break as many things as you want within 30 minutes.
We think it's a great way to release all your pent up anger, instead of releasing it on each other (which ends up with someone else getting hurt).
Location: 490 MacPherson Road, Singapore 368198
Opening Hours: Daily: 12:00pm to 10:00pm
9. Dine In The Dark
At NOX, you'll be having a proper meal in pure darkness! Yes, so imagine not knowing what you're eating, but reviews say they're all delicious! The 12-dishes in a 3-course menu is a complete surprise – you won't know what you're eating until after.
Check out more details about the romantic dinner here.
Location: 269 Beach Rd, Singapore 199546
Opening Hours: Daily: 6:00pm to 10:00pm
10. Spend A Night Glamping Under The Stars
Escape the hustle and bustle of the city life and consider glamping. Glamping is probably one of the most romantic date ideas in Singapore because really, cuddling under the dark sky at night is way better than being indoors in your bedroom.
The couples package here comes with an option to choose between picnic or BBQ.
Location: 1500 ECP, Carpark G Area G., Singapore 468963
Opening Hours: Saturday and Sunday: 3:00pm (Check-in), next day 2:00pm (Check-out)
11. Go On A Vintage Vespa tour
Hop on a vespa sidecar (instead of you driving around while getting mad at other drivers) and take a tour around Little Singapore!
The recommended tours are:
Crazy Rich Asians Tour
Sidecar Date Rides
Nyonas, Babas and Peranakans
Opening Hours: Daily: 9:00am to 11:00pm
12. Get Breakfast With Orangutans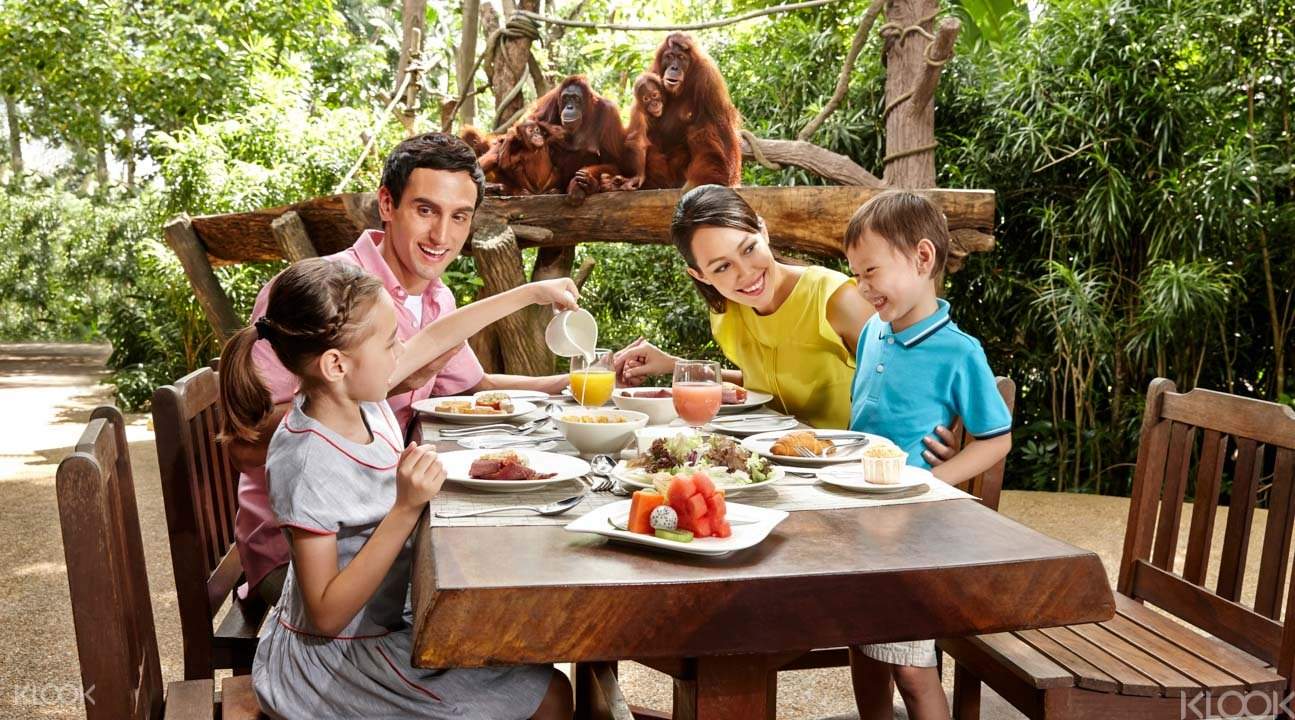 Having breakfast with orangutans at the Singapore Zoo would be ideal, especially if you have kids! The animals appear from 9:30am to 10:00am, so grab a bite at Ah Meng Restaurant during this timeframe to say hello to friendly orangutans.
Location: Ah Meng Restaurant, Singapore Zoo, 80 Mandai Lake Road, Singapore 729826
Opening Hours: Daily: 9:00am to 10:30am
13. Dine In The Sky
Offer an experience your date will never forget and book a private cable car at Mount Faber. Dining in the sky would probably be the best date ideas in Singapore that'll have her beaming with utter joy. Choose between a western or Singapore-style dinner, and within an hour you'll both be craving for more than just having a meal.
Location: Mount Faber Cable Car Reception, 109 Mount Faber Road, Singapore 099203
Opening Hours: Daily: 6:00pm to 8:30pm
14. Float On A Doughnut At Marina Bay
Pop a champagne and make her stomach happy while cruising on a cruise at Marina Bay. The boat you'll be spending time on is in the shape of a doughnut, which is why it's considered one of the unique dating ideas in Singapore.
Location: 80 Collyer Quay Clifford Pier, Clifford Pier, Singapore 049326
Opening Hours:
Monday, Thursday to Sunday: 1:00pm – 9:30pm
Wednesday: 4:00pm – 9:30pm
Closed On: Tuesday
15. Go On A Hike To Get An Endorphins Boost
We know regular jogging or lifting weights at the gym gives you an endorphins boost, but do you know what else does? Hiking! Fit couples would love to get some endorphins released from the body both in the bedroom and outdoors. The TreeTop walk consists of several hiking routes, so there's plenty of room to get a good workout in nature, aside from visiting the boring ol' parks.
Location: 601 Island Club Rd, Singapore 578775
Opening Hours:
Tuesday to Friday: 9:00am – 5:00pm
Saturday, Sunday & Public Holidays: 8:30am – 5:00pm
Closed On: Monday (excluding Public Holidays)
16. Unleash your creativity together
Are you one of those couples that are insanely creative? At Art Jam, you both could draw figurines, paintings, and many more. Exploring your creative side together at an Art Studio would be one of the best dating places in Singapore, especially if you both are getting bored with the endless meal hunting dates.
Location: 333A Orchard Road, Mandarin Gallery, #04-14, Singapore 238897
Opening Hours:
Monday to Friday: 11:00am – 10:00pm
Saturday & Sunday: 10:00am – 10:00pm
17. Explore The Wildlife In A Night Safari
Take a break from the endless humping and paktor with animals at the Night Safari! For fun date ideas at night, we definitely recommend catching the Creatures of the Night Show – the main highlight of the safari.
Location: 80 Mandai Lake Rd, Singapore 729826
Opening Hours: Daily: 7:30pm to 12:00am